2023 ROAD2NSPRA T-shirt
Out of Stock
You save $

0.00

as a member!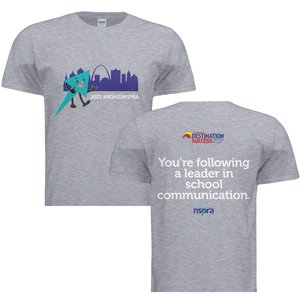 Product Details
Shirts are available for pickup at the Seminar Book Store on July 17 & 18.

Each year, ROAD2NSPRA t-shirts are available to purchase with a unique design in a nod to the Seminar host city. All proceeds benefit the NSPRA Foundation, which funds a number of scholarships to the NSPRA National Seminar each year and offers an annual research grant opportunity for chapters or individual members.
Want to make an additional donation to the NSPRA Foundation?
Once you get to the "cart" page, scroll down and click the "Make a Donation" button. You'll be given an opportunity to specify the amount and add a note or honoree.

Shirts are available for shipping (additional fee) on June 30 or pickup starting on July 15 at the NSPRA 2023 Seminar registration desk. Limited sizes will also be available for sale at the Seminar bookstore on Monday and Tuesday, July 17 & 18.
Fit: Unisex
Color: Gray
Sizes: S–5XL
Additional Product Photos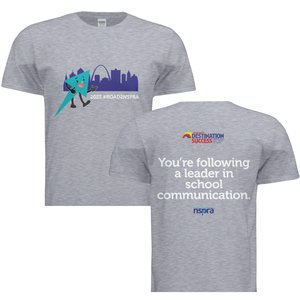 035406